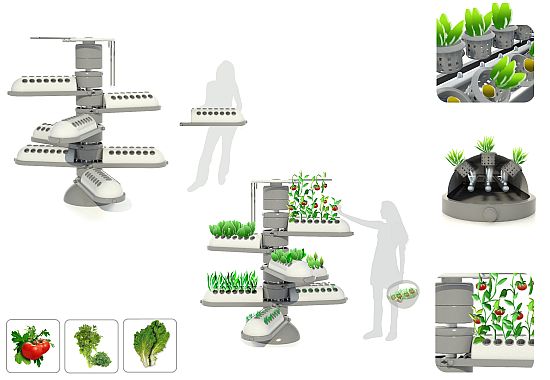 The decrease in the amount of land available for cultivating food and the rapid increase in population has tempted designers to think about ways growing food can be made simple, which can encourage the masses to cultivate food for their individual needs. Designed by Deniz Omac, the Aero-tree system will help people cultivate vegetables for themselves, without getting dirty on farms. The Aero-tree system consists of many units which can be added and taken out from the main system according to the need.

Each unit contains 21 containers holding seeds, storage for water, nutrition liquid and material required for the growth of plants. A variety of common vegetables such as tomatoes, lettuces and some plants such as mint, arugula, and spring onion etc. can be cultivated in the system.

The hanger on the top helps in cultivating tomatoes and can be hung vertically when not in use. The water storage system is maintained by a pump, and water is delivered to storage via a central system pipe. Water is circulated from the main storage individually to each unit. A part of unit keeps supplying the nutrition liquid and the other part ensures excretion of waste water.

All the units can be rotated around the main profile in order to make the collection of vegetables easier. Along with this it provides a good opportunity to get acquainted and interact with new people in this common place. Most important, it provides fresh vegetables and relaxation from busy urban life far out from the city where they cultivate their vegetables.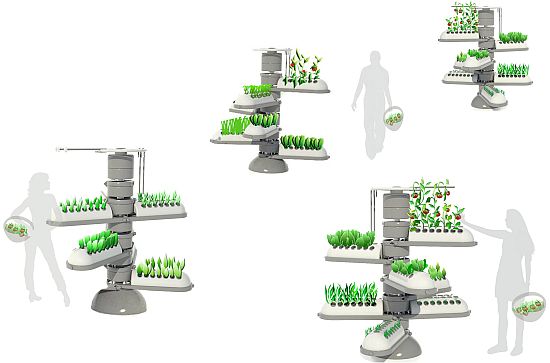 (Source: goodfarms)